---
---
I note with regret that David Griffiths has closed his sites, as of the end of 2001. I salute Mr. Griffiths for having created true classics and contributed valued and worthwhile work.

In his own words, 
"...thank you to all the people who have done so many things with the little program I wrote one Saturday afternoon so so long ago, and also to say that I will be closing spigots.com sometime before Christmas in order to work on larger Java projects. Sadly this means that the original lake applet will no longer be developed. It will of course still be available in the many online archives, and will no doubt live on in the many clones that it spawned but sadly I shall no longer add another byte code to it."

Regards, 

DG
In all of David's Read Me pages he states the following,
Congratulations...

...upon choosing this product. Not only will it improve your health, and enhance your general spirituality, it will also clean the bath, cook you breakfast, take care of the children, end armed conflict and invigorate the look of your web page.
Paying for the Applet

"There is NOTHING to pay. The applet is completely free. However, if you make a donation ($5 - $10?) to Ty Hafan, Children's Hospice of Wales, which is a charitable appeal formed to build, equip and run a Children's Hospice in Wales to provide care for terminally ill children, you can consider your applet well-and-truly registered. Click here for details on how to make a donation. They now have an excellent new Online donation page. In just a few minutes you can change a few old, crinkly, dirty little bank notes into a nice warm glow... "
Unfortunately, the links on the read me pages are now dead links. Therefore in keeping with the original intention I have furnished you with an updated link to the hospice here.

I also liked the fact the Mr. Griffiths never said any one using his applets HAD TO place his logo on the page. He made a kind and gentle request to do so. I have included his logo on these pages out of respect to him. I truly admire his work and the way he has freely given it to all of us. I am sure his name will appear again on some new project. In a few years these applets may become dinosaurs, until then I will continue to use and enjoy his applets. I hope you and your families can get some enjoyment out of these applets too!
---
Another Great Site For Lake And Other Applet Info Is "Uncle Gus" There are tutorials on the use of the applets, plus a good selection of Pictures and Art Work utilizing the Lake Applet. Please help support this site by submitting any outstanding pictures that you find using the Lake Applet for the "Uncle Gus Best Dressed Lake Award." This web site has more than Lake Applets. Pages and pages of helpful information on many subjects. Check It Out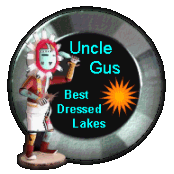 ---
The example for the overlay was created by Rosie Hardman. At Rosie's site there are helpful tutorials for using the Lake Applet. Please give her site a visit or go to the mirror site for graphics at: www.freespiritgraphics.com

They have some of the most unique backgrounds and graphics I have ever seen. Check It Out!

---